PROJECT GALLERY
We have 20+ years of experience about Design, Installation, Consulting, Supplying Equipment & Measurement in Compressed Air System, Fluid Dynamic System & HVAC System for Industrial Projects. Customers trust on our products, our solutions & our availability standing by them.

Compressed Air & Gas Projects
Air Compressors for Industrial Factory
In 2020, we executed a comprehensive compressed air system installation project under a design and build contract for an industrial factory. This endeavor was meticulously structured into three distinct phases: design and costing, pipework coordination and installation, and system testing and commissioning.
Our complete compressed air system boasted three oil-injected screw compressors, two air receiver tanks, three refrigerated air dryers, and three sets of pre-filter and after-filter units.
Notably, our approach to this project involved not only ensuring proper ventilation for all equipment but also dedicating ample space for installation and future maintenance. These preparatory steps were integral to achieving an efficient compressed air system.
Upon successful completion of the testing and commissioning phase, we proudly handed over the project, demonstrating that a systematic progression through these three essential stages was key to our success.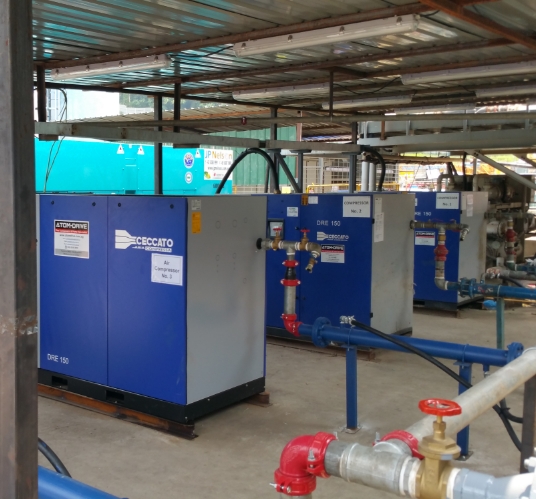 PUMP PROJECTS
Gear Pump Installation
In 2018, Atom-Drive achieved a successful milestone by completing an oil transfer pumps installation project for an esteemed client in the oil and gas industry. We deployed a set of top-of-the-line gear pumps, strategically positioned on pump platforms at the dock.
To align seamlessly with our client's operational goals, our dedicated engineering team conducted a comprehensive site survey, leading to the formulation of a meticulously designed installation and maintenance program tailored specifically for these pumps. Subsequently, we embarked on the installation process, ensuring that it was executed within the stipulated project timeline.
The gear pumps were skilfully installed in a series configuration, facilitating the efficient transfer of oil from one tanker to another. These high-pressure pumps provided a safe and eco-friendly means of transferring oil between vessels, promoting environmental responsibility.
Prior to installation, both the pumps and pipelines underwent meticulous finishing with a specialized paint system, and they underwent rigorous hydrostatic testing at the factory. Furthermore, each pump underwent stringent performance testing to ensure it met the precise operational requirements of our valued customer's application.
This commitment to quality and meticulous attention to detail underscored our dedication to delivering a top-notch solution tailored to our client's needs.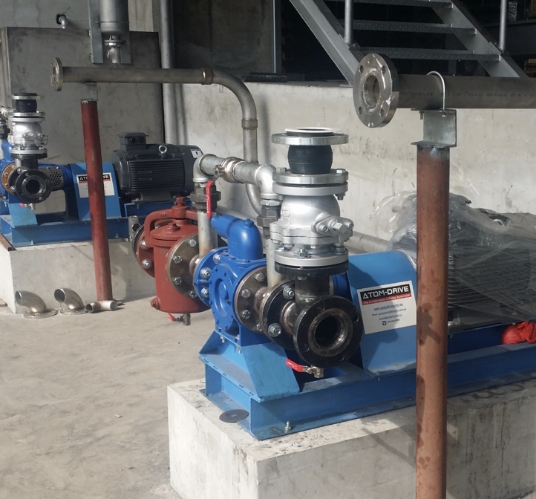 HVAC projects
Cooling Tower Installation
When selecting a cooling tower, various factors come into play, including hot water temperature, cold water temperature, wet-bulb temperature, water-flow rate, airflow rate, cooling tower size, capacity, efficiency, corrosion resistance, and noise level.
In 2019, Atom-Drive accomplished an industrial cooling tower installation project for a processing plant. We delivered and assembled three counter-flow cooling towers with deep cooling differential temperature of 10°C, two 10m³ cooling water storage tanks, and two cooling water supply pumps with a flow rate of 200m³/h.
Our process began with proposing a cooling system layout, backed by design calculations and accurate equipment sizing. Upon client approval, we facilitated the construction of a concrete plinth for the cooling system installation.
Upon completion of the installation, we meticulously tested and commissioned the entire system to ensure it met the precise operational requirements of the customer's application, resulting in the successful project handover.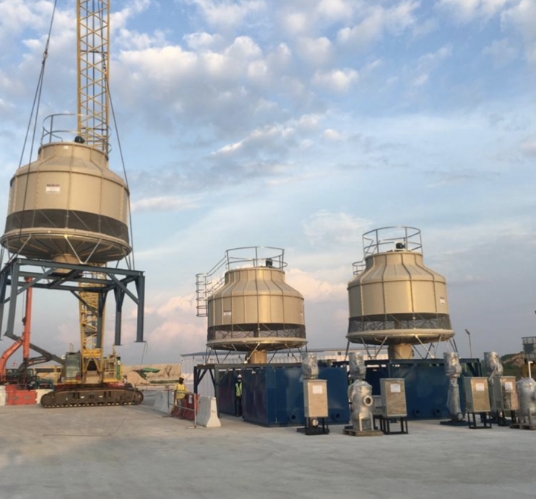 Measurement projects
Air Compressor Efficiency Analysis
Measurement and verification (M&V) methods and processes are essential tools for assessing the performance of energy efficiency initiatives, ensuring planned outcomes are achieved with greater certainty and enabling more effective future activities.
In 2015, one of our clients sought our expertise to analyze their compressed air system. Our comprehensive approach involved 24/7 data logging and trending of air compressor power, compressed air flow, and compressed air pressure for four compressors. These compressors and associated equipment, including dryers, filters, and air receivers, operated extensively, ranging from 11 to 24 hours daily.
Through a series of thorough studies and objective equipment evaluations, we identified enhancement opportunities for each component, aimed at improving the efficiency of the air compressors and subsequently reducing energy consumption.
Following the evaluation's results, our client made an informed decision to replace two older compressors with newer models due to their reduced efficiency resulting from wear and tear and aging components. This strategic move contributed to enhanced energy efficiency within their compressed air system.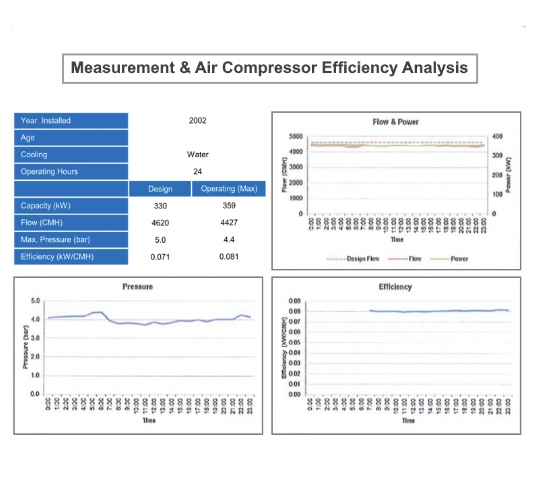 Central control & monitoring projects
Compressed Air System Monitoring
In this project, we provided and installed a range of essential equipment, including CS 110 Power Meters, an S430 meter, and a universal display & data logger.
These instruments were integral for analyzing, monitoring, and controlling various aspects of the system, such as actual power consumption, flow rate, compressed air temperature, pressure loading data, and system control.
The CS 110 Power Meter was chosen for its ease of installation and high accuracy. It effectively measures real-time power consumption in kW and accumulates energy consumption in kWh for 3-phase loads.
The S430 meter is a versatile device with three functions housed in a single sensor probe, ensuring enhanced accuracy when analyzing parameter value relationships. Its pitot tube sensor design provides consistent and precise measurements, even when exposed to varying compressed air temperatures over extended periods.
Completing the system, the universal display and data logger offered comprehensive functionality. It could measure, display, and record a wide range of relevant parameters, including flow rate, consumption, dew point, pressure, temperature, power consumption, and compressor status within the compressed air system. This suite of equipment enabled precise monitoring and efficient control of the system's operations.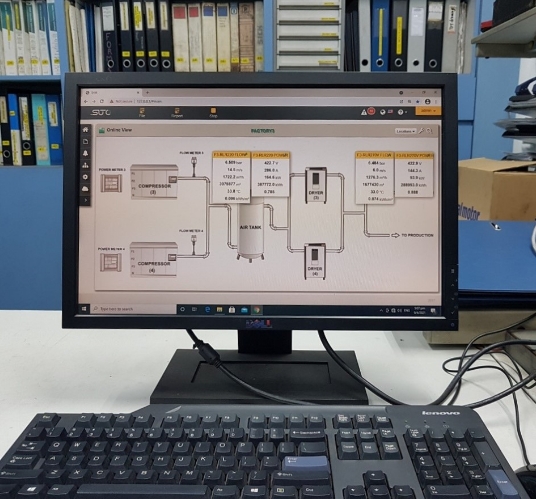 Looking for a Trustworthy & Reliable Partner?
Are you looking for a trustworthy & reliable partner who can consult, design, supply, install and maintain all the trades of compressed air system, fluid dynamic system & HVAC system for industrial projects?